More than ever, the need for innovation to transform and advance the Libyan education system is immensely recognized in Libyan society.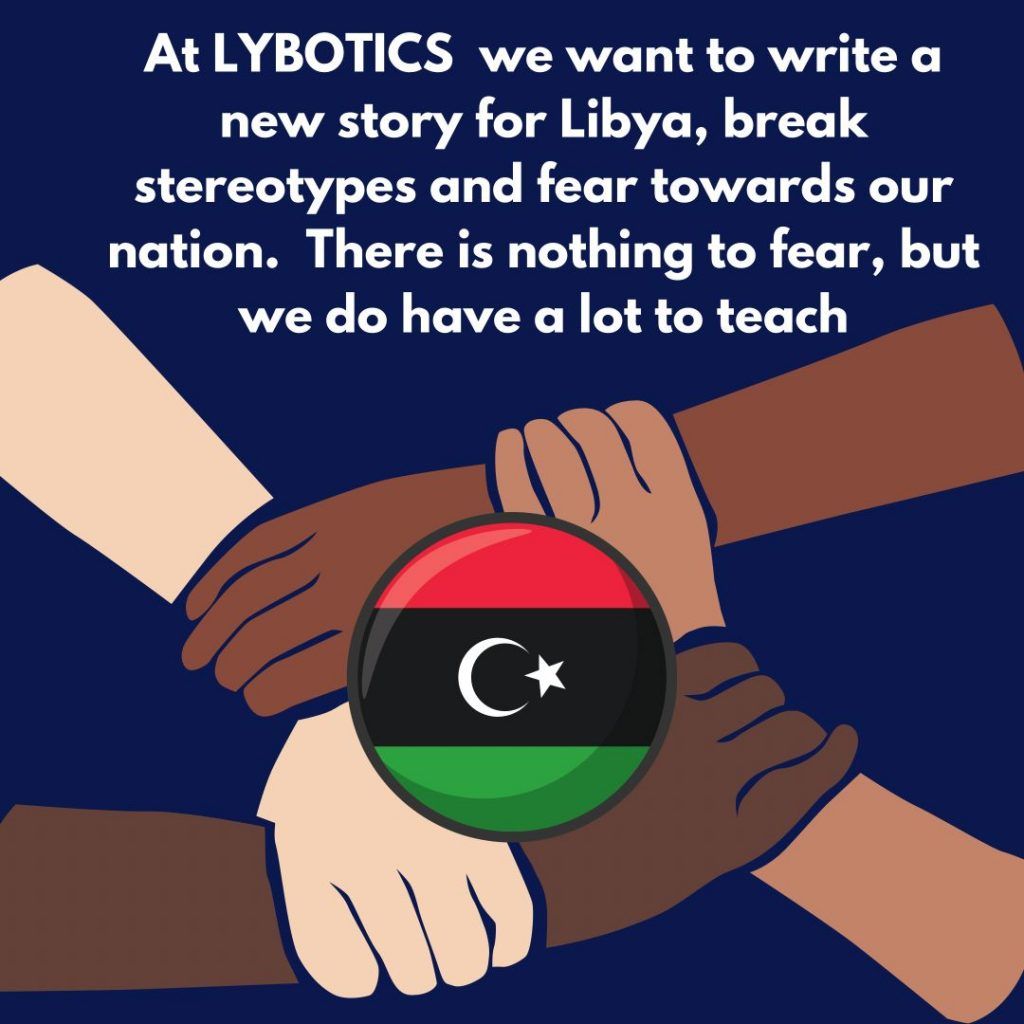 After the civil war break out in 2014 students have gone through a tough time, during the conflict in specific areas, schools are often destroyed or become unsafe, students are forced out of public school, making them more vulnerable and at risk of violence, with the permanent displacement, without a guarantee that they can go back to school, let alone the feeling that they can not meet their old friends as families are been scatters to the different neighborhood being in such an unfortunate position might cause negative social-psychological symptoms for young people.
Despite these circumstances and the hard times, and all the external and internal challenges that Libya is going through; in 2018 LYBOTICS was born to contribute to a positive change.
LYBOTICS focuses on the innovative application of advanced robotics, STEM education, and artificial intelligence to bring about digital transformation, by blending insight and trends from the world, specifically designed to accelerate innovation to ensure a bright future for all youth in Libya.
Throughout the past three years, LYBOTICS teams have managed to empower more than 1000 high-school students and 100 mentors, from more than 19 cities in Libya following creative ways of implementing activities through flexible programs as well as exercising sound judgment and providing an inclusive and adaptable environment to promote learning, life skills, and social cohesion.
A chance to Communicate, Learn and compete (LYBOTICS)
In a collaborative energetic environment, LYBOTICS formed this community whereas all the talented, and passionate youth regardless of their nationality, gender, or Race/tripe can have the opportunity to occasionally meet, exchange ideas, and knowledge with the help of mentors in various fields including technology, robots, and STEM education.
Over the past years, LYBOTICS has succussed to implement and participate in various activities both country-wide and internationally and attract young individuals to be part of the LYBOTICS team.
All participants at LYBOTICS are natural scientists with love to question, tinker, experiment, and play, having these smart instincts and qualities alongside the right guidance and leadership all participants will have the opportunity to foster their skills and abilities to learn and experiment to make a positive impact and to be great future leaders and scientist.
LYBOTICS is giving you the chance to be part of this global competition "FIRST® Game Changers Event".
The tournament in Tripoli is made to foster STEM skills and capitalize on the motivational effects of competitions and robotics and help students from all walks of Libya create an identity as STEM learners as well as equip students with valuable soft skills like communication, collaboration, and time -management in a fun and authentic way.
"The event is part of the FIRST® Tech Challenge, a global robotics competition powered by companies such as Disney, NASA, and LEGO. Founded in 1989, the FIRST® non-profit has aimed to inspire young people's interest and participation in science and technology."
Many thanks to our sponsors (Assaray Trade and Investment Bank (ATIB), Mersin (Hommer & GREE Libya), USAID, The Libyan Ministry of Education) who have made these two days event possible which led to the inspiration of many young scientists and engineers to apply their knowledge through the help of you in supporting LYBOTICS, Event and believing in LYBOTICS Teams.
Quote, testimonial from some national and international members:
Fatma AL Zahra (Junior innovators team "Sudan")
The team and I have arrived in Libya and join the tournament to meet other innovative and like-minded youth and form this good relationship and learn from one another.
LYBOTICS Euesperides Team "Benghazi":
"Science is the only way that can improve our way to the better, there is no such thing as impossible, we have the capabilities and the intelligence to build something of value, the only thing that we lacked is the opportunity and for that, we thank LYBOTICS for providing this chance."
Aziza Adel Abdulrahman (LYBOTICS Castel Team "Sabha", Mentor)
Through this tournament, we have gained a lot of experience and it has enabled us to set our objectives and plans for future events. And the most important lesson learned that it's not important whether you win or lose what matters is the innovative ideas and the development process in creating something special.
"Despite the lack of resources, we have managed to bring about this positive change, and this is one of the biggest achievements for us as a team."
This has given us the inspiration and the will to overcome any challenge as a team.
Abdul malik Bait al-mal (LYBOTICS Quanta Team " Tripoli", Mentor)
The first day has been remarkably good as we have witnessed a lot of collaboration between all the teams where they exchanged tools and ideas to elevate the level of professionalism for the final next day of the tournament.
Our objective is to upgrade our tournament and take this tournament to the next level. It's our goal to be all on the same side and to LYBOTICS and the teams on both the national and international level